International Journal of Obstetrics, Perinatal and Neonatal Nursing (IJOPNN)
eISSN: 2455–6424
Click here for complete Editorial Board
Scientific Journal Impact Factor (SJIF): 4.916
International Journal of Obstetrics, Prenatal and Neonatal Nursing: is a peer reviewed journal, which intends to publish research, review and short articles related to women and child care. The goal of the Journal is to enhance the knowledge and practice in closely related fields of Obstetrics, Gynecology and Neonatal care. It's a biannual journal, started in 2014.
Journal DOI No: 10.37628/IJOPNN
Readership: Graduates, Postgraduates, Research Scholars, Nurses, in Institutions, and Hospitals
Indexing: The Journal is indexed in Google Scholar, Journals TOC
Focus and Scope Cover
Obstetrics and Gynecology
Amenorrhea, Dysmenorrhea, Menorrhagia
Prenatal Diagnosis and Screening
Prenatal Nutrition
Pregnancy and Preventive Care
Prenatal Nutrition
Reproductive Health
Fertility
Prematurity and Preterm Births
Birth Defects
Basic Neonatal Care
Special Care Newborn Nursery
Intensive Neonatal Care
Neonatal Nursing
Submission of Paper: 
All contributions to the journal are rigorously refereed and are selected on the basis of quality and originality of the work. The journal publishes the most significant new research papers or any other original contribution in the form of reviews and reports on new concepts in all areas pertaining to its scope and research being done in the world, thus ensuring its scientific priority and significance.
Manuscripts are invited from academicians, students, research scholars and faculties for publication consideration.
Papers are accepted for editorial consideration through email [email protected] or  [email protected]
Abbreviation: IJOPNN

Frequency: Two issues per year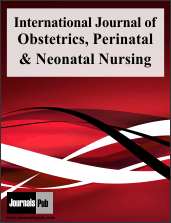 Publisher: JournalsPub, an imprint of Dhruv Info Systems Private Limited
Address: A-118, 2nd Floor, Sector-63, Noida, Uttar Pradesh-201301, India
Phone no.: 0120-478-1216/ Email: [email protected]
Announcements
No announcements have been published.
Vol 9, No 2 (2023)

Open Access

Subscription or Fee Access
Table of Contents
Articles
| | | |
| --- | --- | --- |
| | Gauri Manohar, Chintamani Chauhan | 1-5 |
| | | |
| --- | --- | --- |
| | Sindhu K., Shyni Chacko, Abhinya A.K. | 6-11 |
| | | |
| --- | --- | --- |
| | Davison Bester Machika, Abigail Kazembe | 24-29 |